You should know that DYE Paintball is a top-rated brand that sells highly premium masks at reasonable prices. According to my experience, their most popular paintball mask is the DYE i5 paintball mask. And personally, I'm impressed with the quality of this lightweight paintball mask. So, I decided to share my DYE i5 review.
I used many paintball masks, but the Dye i5 Paintball mask is number one on my favorite paintball masks list. In this DYE i5 review article, I shared my experience using a Dye i5 Paintball Mask on the paintball field.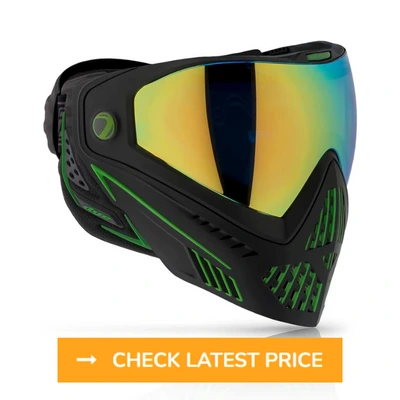 | | |
| --- | --- |
| Brand | Dye |
| Rating | 4.8 |
| Lens Coating | Anti-Fog Coating |
| Protection | 100% Ultravoilet Protection |
| Lens Material | Dual Pane Thermal Lens |
| Color | Dyecam, Emerald, Fire, Ironmen, Onyx, Onyx / Gold, Russian, Legion, Smoked, Storm, White / Gold |
The features I admired in this Dye i5 included ventilated holes for comfort, a strong frame for head protection, Clear vision goggles, a GSR Pro strap, and many more. The details are here below.
Lightweight Frame
The ultralight structure of this paintball mask is one of the key features that make it higher than other paintball masks. When I wore a Dye i5 paintball mask and went to play on the paintball field, I did not feel like I was wearing something on my head.
It was so comfortable. The foam padding inside the paintball mask absorbed sweating from my face and neck and relaxed me.
Changeable Lens System
I think every player faces the difficulty of changing an old scratched lens of a paintball mask with a new one. But the Dye i5 Paintball mask comes with a changeable lens system.
And If I talk about myself, I efficiently change the lens whenever I want. Also, I don't have to buy a new paintball mask for new lenses because I ordered separate colored lenses.
Sound Catch
The Dye i5 Paintball mask is very catchy. It means when you want to listen to anything while wearing this paintball mask, it does not distort or reduce sound around you.
I smoothly heard all sounds and incoming alerts from my teammates while playing with this Dye i5 paintball mask. The i5 ear guards with hole patterns are implemented in this paintball mask to hear sounds easily without misshaping.
Anti-Fog Lens And Ventilation To Avoid Fog
The most advantageous feature of the Dye i5 Paintball mask is anti-fog ventilated holes. These holes efficiently exhale breath moisture and avoid fog inside the paintball mask.
Its anti-fog thermal Lenses help to recognize the target in dark places. I won many battles held at night with the help of Dye i5 thermal goggles.
GSR Pro Strap
The GSR strap provides exceptional grip for maximum security. And I was amazed at how securely and tightly it grips mine under the chin area. It does not move even if you jump or crawl on the ground.
Its GSR gear dial is a revolution in i5 goggles technology. It gives a simple solution to secure your head by turning the dial and ratcheting it according to neck size.
Good Vision
DYE i5 comes with a variety of colored lenses. You can choose any color lens by your choice. I suggest you use a yellow thermal lens during the day because it gives a pro look at the playing field.
Moreover, the grade of the anti-fog lens is excellent, with clear peripheral vision. The anti-fog coating on the lens avoids weather or breathing mist from the lens and makes your view clear.
Pros
High Quality and Lightweight Frame.
Anti-fog coating on the lens.
Changeable Goggle System.
Great Fit.
The foam inside the mask absorbs sweating.
Sound Catchy.
Cons
A bit of compromise on communication in heavy rain.
I hope my DYE i5 review is helpful for you if you are confused about buying a paintball mask for you. Share it with friends if you like this article, and tell me your experience or opinion in the comment section.
Stay Blessed!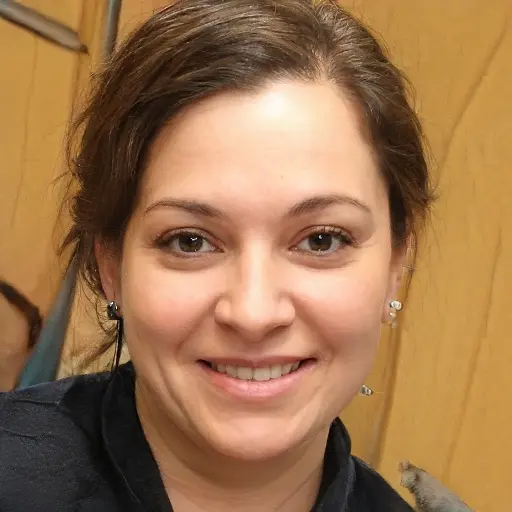 Annie Carter
Ever since 2016, I have had a keen interest in paintball, which has grown into an addiction. As a dedicated player of this energetic sport, I have spent a considerable amount of time researching several techniques, tactics, and gear options to enhance my gameplay. I enthusiastically share my knowledge and experience through my blog posts. Join me on this exhilarating journey, as we discover the fascinating world of paintball together!