Bunkerkings CMD is an improved and excellent effort to design a stylish geometrical material paintball mask with a comfortable structure. And, after using Bunkerkings CMD paintball mask, I'm obsessed with its quality and look. I looked like a pro player on the playing field while playing paintball with my friends. Let me tell you my whole experience in this Bunkerkings CMD review.
I received a micro visor and a goggle bag free with CMD thermal paintball mask. However, if someone has a little big head, maybe it doesn't fit perfectly. But overall it is a good deal with ultimate features. Bunkerkings CMD review is here!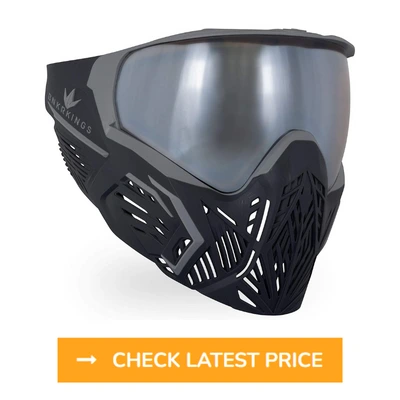 | | |
| --- | --- |
| Brand | Bnkr Kings |
| Rating | 4.9 |
| Lens Coating | Anti-Fog Coating |
| Protection | 100% Ultravoilet Protection |
| Frame Material | Polycarbonate |
| Lens Material | Thermal Lens |
| Color | Acid, Carbon, Demon, Panther, Samurai, Camo, Midnight Azure, Black |
Bunkerkings CMD Thermal Goggles is a lightweight, flexible, anti-fog, breathable paintball mask. It offers many different colored frames and lenses. You can also buy goggles separately of your own choice if the old lens is damaged.
However, The overall performance and design of the CMD paintball mask give it a place in the top-listed paintball masks everyone would love to buy. But as well, Dye i5 is a good competitor of Bunkerkings CMD Paintball mask.
Fog-Free Thermal Lens
The anti-fog-coated lens is the same as other top-rated paintball mask lenses, Nothing in particular. But it has a micro visor on the lens that protects it from scratches, and the excitement is to get a free designer goggle bag.
Moreover, the microfiber contact layer reduces mist and makes a clear view for the player. It is a beneficial feature for me because mostly, I play on foggy days in winter.
Improved Breathability
Breathability of a paintball mask is now much enhanced in Bunkerkings CMD Paintball mask. I said this because I used Empire E-Flex before this paintball mask, and that experience was not good enough. But in CMD, geometric patterns on mount vents are more excellent than my previous virtue paintball mask. Also, it looks very stylish.
Flexible And Wide Strap
The main comfortability of this paintball mask is its flexible strap that doesn't irritate your neck while playing a paintball game. This strap also has a pulling lock to help to strangle the paintball mask according to your comfort and fitness.
Moreover, the other strap on the back of the paintball mask helps to wear the paintball mask more comfortably. It does not allow your paintball mask to move. It means the paintball mask does not shake even a little when you bounce or fall on the ground during paintball games.
Pressure Reducing Contour with Interchangeable Plush Foam
The frame shape and design of this paintball mask are perfect. The contour line reduces pressure from the jawline and allows you to open your mouth and talk easily. Also, earpiece designs are intended to hear sounds, and thus communication becomes smooth.
The Plush BK foam padding inside the paintball mask absorbs sweating and gives a comfortable experience. There is also interchangeable padding, which means you can change the foam with a new one if it is vandalized or old. This technique makes your paintball mask renewed.
Pros
High-Quality Strong Frame.
Stylish Ventilated Patterns.
Anti-fog goggles with Micro Visor to save the lens.
Interchangeable Plush BK Foam.
Variety of colors.
Improved Breathability.
Flexible Wide Strap.
Direct Communication Through Vents.
Distorted Free.
A free Designer Goggle Bag.
All in all, Bunkerkings CMD thermal goggles are perfect for every type of player, a beginner or an experienced. It has all the features and qualities that are needed to play paintball games smoothly. The lightweight and strong frame protects from injuries, thermal goggles(with bag) give a clear view, interchangeable contour design allows one to speak distortion-free, and many more. So, I don't think a player does not want this all-in-one CMD paintball mask which makes it a worthy purchase.
I hope Bunkerkings CMD review proved helpful for you. If you like this article, share your thoughts on using Bunkerkings CMD Paintball mask in the comment section. Thank You.
Stay Blessed!