Virtue VIO Extend Paintball mask is another interpretation of the Virtue Brand. And I tested both paintball masks to see the difference and improved features of this paintball mask from the previous one. Truthfully, I love both paintball masks because both have all the elements to prove a good paintball mask. However, The enhancement I noticed in the VIO Extend paintball mask is shared in this Virtue VIO Extend Review.
Moreover, its price is also very amazing. After using this paintball mask, I felt my investment was profitable. I've included more details about Virtue VIO Extend Review below.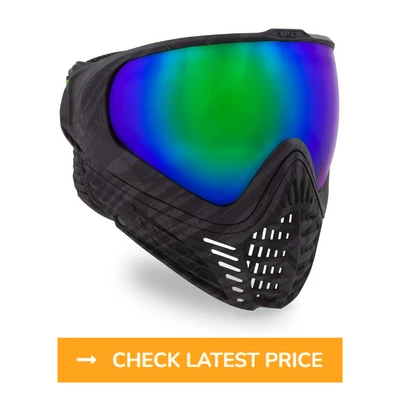 | | |
| --- | --- |
| Brand | Virtue Paintball |
| Rating | 4.7 |
| Lens Coating | Anti-Fog Coating |
| Protection | 100% Ultravoilet Protection |
| Lens Material | Thermal Lens |
| Color | Graphic Emerald Black, Graphic Emerald Fire, Graphic Emerald Ice, Black, Reality Brush Camo, Black Clear, Black Smoke, Reality Brush Camo |
Firstly, I was impressed with the lightweight and comfortable structure of the Virtue VIO Extend paintball mask. It looks stylish and provides high-end safety compared to the Virtue VIO Ascend paintball mask. Secondly, its flexible mouthpiece offers ease of speaking.
Its adjustable and easy-to-lock strap provides excellent fitting. Apart from this, In my last paintball game competition, I wore this Virtue Extend paintball mask, and its overall anti-fog functionality and comfort during the game kept me relaxed and motivated to win.
Dual-Layer Foam Padding
It has double layers of smooth and soft foam, making it different from other face helmets. For me, safety is more important than looks and style. And this paintball mask meets all safety precautions, as its hard frame and soft foam padding protect the head and face from harm.
Moreover, this padding helps to make a perfect fit according to your face size. Also, It makes a smooth coverage that absorbs sweating of the face and head and avoids irritation, especially on summer days.
Stretchy Facemask
The flexible face mask gives me a comfortable fit according to my nose. Big venting holes for breathing realize breathing moisture from inside the mask. Also, these venting holes are reliable like the HK Army KLR paintball mask.
Visibility
The thermal lens of Virtue VIO Extend is excellent in use. It has an anti-fog coating that removes fog from the lens efficiently and makes clear vision for the user. It comes in a variety of colors. But I mostly use a yellow gradient lens because it is perfect for use in sunlight.
Further, these goggle systems are replaceable. You can easily change an old lens with a new lens in just one minute. The buttons on both sides of the goggles help to replace them.
Enhanced Features
The enhanced features from the Virtue brand in this VIO Extend paintball mask are as follows:
Earpads
The compression molded ear pads are great. It does not stop any coming sound and makes communication with others more reliable.
Enlarged Straps
The strap behind the paintball mask is non-slippery and easy to lock. It provides accurate fitting of paintball masks according to the size of the head.
Improved Jaw Line
The contour line is just perfect and protects the jawline efficiently. This improved feature is helpful for players with big faces.
Pros
Dual Foam Layers inside this paintball mask.
Enhanced jawline contour.
Flexible Facemask.
Big Holes for Breathing.
Light and Comfortable.
Cons
Difficult to wear glasses with the Virtue VIO Extend Paintball mask.
In sum, I consider Virtue VIO Extend Paintball in my favorite paintball mask list because its prominent features and high functionality make it more reliable than other expensive or stylish paintball masks.
It is suitable for every player except those wearing eyeglasses with paintball masks. However, there are other best paintball masks that you can wear with glasses.
If you found this Virtue VIO Extend Review helpful, share it with other friends and let me know your experience of using paintball masks.
Stay Blessed!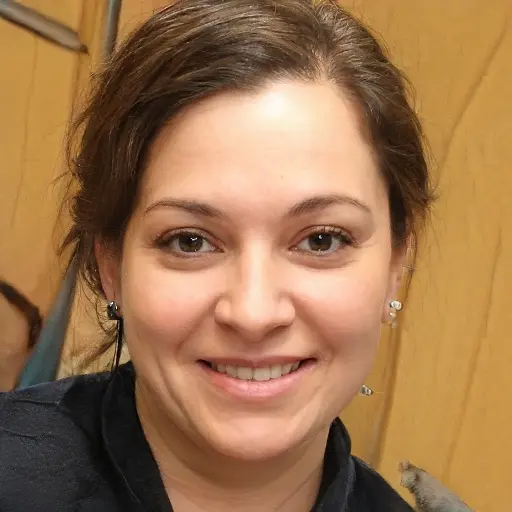 Annie Carter
Ever since 2016, I have had a keen interest in paintball, which has grown into an addiction. As a dedicated player of this energetic sport, I have spent a considerable amount of time researching several techniques, tactics, and gear options to enhance my gameplay. I enthusiastically share my knowledge and experience through my blog posts. Join me on this exhilarating journey, as we discover the fascinating world of paintball together!