A typical paintball is made with water-soluble material that is easy to remove. But you have to ensure that the Paint doesn't settle for too long Because it may begin to stain over time. Some paintball Paint is much harder than others. If you want to learn how to wash paintball, Paint off your houses or cars. Also, tell you how to remove paintball stains from clothes, Shoes, and other equipment.
How To Remove Paintball Stains From Clothes?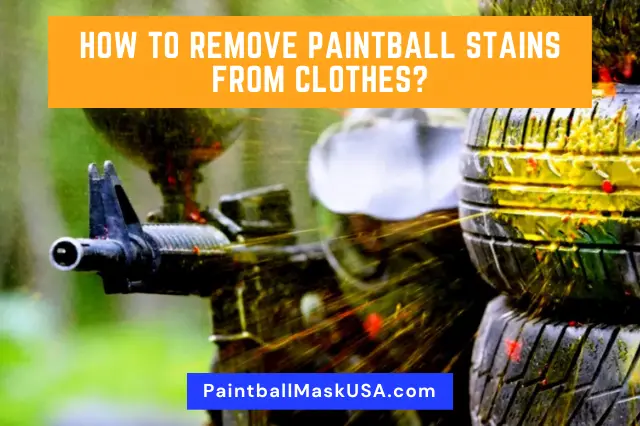 When you go home after playing a paintball game and want to remove stains from your clothes and your badass paintball mask. You can clean the paintball mask easily but what about the paintball stains on clothes. Wash your clothes immediately. If paintball stains remain, so you try the following:
Wash the area with soap and water. If stains don't remove, you prepare a mixture combining equal amounts of dish detergent and water(liquid dish detergent works very well). Spray this mixture on the stain. And if it does not work, use bleach to remove the Paint. After washing, stains are removed.
How To Remove Paintball Stains From Shoes?
The best solution to remove paintball stains from shoes is to wash them with liquid dish detergent in warm water. A lot of shoes, boots, and other footwear have many paint cracks. Use a toothbrush to remove the stains.
After washing your shoes, let them air dry and see all the Paint removed. If not, repeat the process until all the Paint is wholly removed.
Does Paintball Paint Wash Off Cars?
Yes, Paintball Paint washes off cars Because you can use homemade elements that are less expensive and effective for paintball stain removals.
How To Wash Paintball Paint Off Cars?
To remove paintball Paint in the car. Firstly, wash the car to remove the stains. After washing the car, dry off the area hit by a paintball with a towel, and see if any paint remains left behind.
If there is, you will need to use a germ remover product to remove the stain. Usually, spray the germ remover onto the paintball stain and let it dry. After one minute, erase the area with a clean cloth, and see the remaining stains removed.
Does Paintball Wash Off Trees?
Yes, you remove the Paint from the trees. Because paintball Paint is not like typical Paint. It is easy to remove.
How To Wash Paintball Paint Off Trees?
Paintball paint is not bad for the environment. But In another case, we can say that it is harmful to your eyes if the trees on your lawn and covered with Paint. And the rain will remove the Paint. If the rain is not yet, you must carry a lot of water and a cloth and wash it off.
To Remove The Extremely Stubborn Paintball Stain?
Use a car-washing detergent, warm water, and a piece of cloth. Then dry the area with a towel. Use the germs remover product, dabbing a few drops onto a cloth towel, then rub over the paintball stain. Repeat until the process paintball stains are removed.
Conclusion
Although a paintball game can be fun and exciting. It can damage your clothes. But the paintball Paint has been designed to easily wash off houses, clothes, and shoes. So, You don't need to worry about buying a new product with multi-colored Paints.
We have told you how to protect yourself with paintball paints. And If you liked the article, kindly share it with your friends. Also, you can ask us anything in the comment section like paintball tips, etc.
Thank You!