An effective paintball mask acts as essential for both performance and safety. The Dye i5 vs Dye i4, Virtue Vio, Empire Evs, Push Unite, and Bunkerkings CMD are just a few choices. However, each of these paintball masks has unique benefits and features. It is vital to consider the player's preferences when buying a paintball mask and what things are most important.
So, Here I compared several popular paintball masks. Such as Dye i5 vs Dye i4, Virtue Vio, Empire Evs, Push Unite, and Bunkerkings CMD with each other to express how they are distinct from each other. And to define the features, comfort, visibility, and durability of these paintball masks that give them the same preference as others.
What To Consider?
When selecting the best paintball face mask, the initial consideration is the mask's fit and comfort. Players should prioritize finding a paintball mask that fits securely and comfortably, providing a proper seal around the face. Additionally, the weight of the paintball mask should be minimum, as a heavy paintball mask becomes annoying during long play sessions.
The quality of the lens is another paramount factor to consider. A right thermal lens should be clear, anti-scratched, and offer peripheral vision. Also, it's vital to check the color of the lens as it can be more appropriate with lighting situations on the playing field. Lastly, additional features like noise reduction, ventilation, and customizable options will be an option to pick a paintball mask.
The comparison between Dye i5 with other paintball masks is typically the common question from players because everyone wants to know which paintball mask is better, even with the same brand. So, the contrast is here.
Dye i5 Vs Dye i4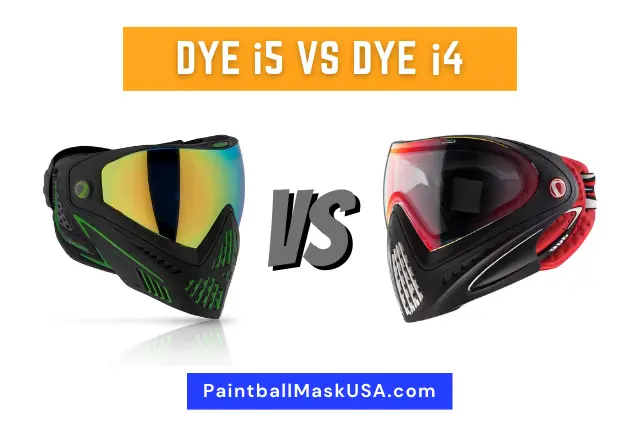 Design And Comfort
Dye i5 is a sleek paintball mask with a low profile structure, exceptional peripheral vision, and a head-up mount. Likewise, Dye i4 is a compact and lightweight paintball mask devised for speed and agility that poses close to the face. Both paintball masks have soft-touch, multi-layer foam that provides comfort and protects the player's head.
The notable feature regarding the design of the Dye i5 is GSR Pro Strap that ensures a great fit and more shield to the chin. And one of the noticeable features of the Dye i4 paintball mask is Rapid Lens Change System that allows quick and easy swap out lenses. Additionally, both paintball masks have removable pieces that let players alter the appearance of the paintball mask to their liking.
Visibility And Durability
Talking about the lens quality of these two paintball masks, aiming for a target and replacing the lens is easier with Dye i4. However, there is a range of colored lenses available for Dye i5 that has excellent color contrast to handle light issues.
Dye i5 is preferable for the protection of the jawline because it provides more security to the chin area. And Dye i4 has a low profile that barely covers the chin area of big faces.
Overall, the Dye i5 and i4 paintball masks are well-made and provide outstanding comfort, fitting, and customization options. Players can choose one paintball mask from these two which best meets their needs.
Dye i5 Vs Virtue VIO Ascend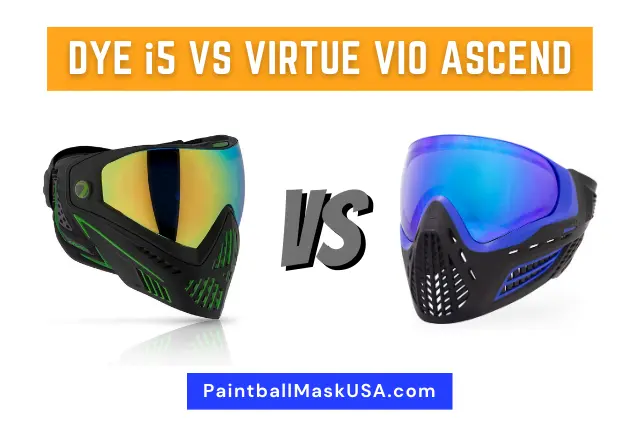 Design And Comfort
In structure, Dye i5 is bigger than Contour Virtue VIO. The contour line of Dye i5 satisfies the user more than Virtue VIO. But Virtue VIO has a stylish look. So, the choice is yours. What do you want? Modern Look or Big Face mask? Moreover, Virtue VIO is fair to shield the face with its soft Plush padding, but here the winner is Dye i5 as its multi-layer padding inside the paintball mask is best for protection.
Visibility And Durability
Little to say. Both offer a variety of thermal lenses that can be swapped out depending on how much light is available and allow complete peripheral vision coverage. While playing, neither does it make the paintball mask fog up because there is a layer of anti-fog coating on them.
Additionally, Dye i5 is not a user-friendly maintained paintball mask, according to our most experienced players. It demands a lot of attention in the interest of reliability and care. If you want a user-friendly, inexpensive paintball mask that is also simple to maintain, the Push Unite paintball mask is the ideal choice. Virtue VIO also performs admirably regarding other factors, including lens lock system, breathability, durability, weight, and cost.
Dye i5 Vs Empire EVS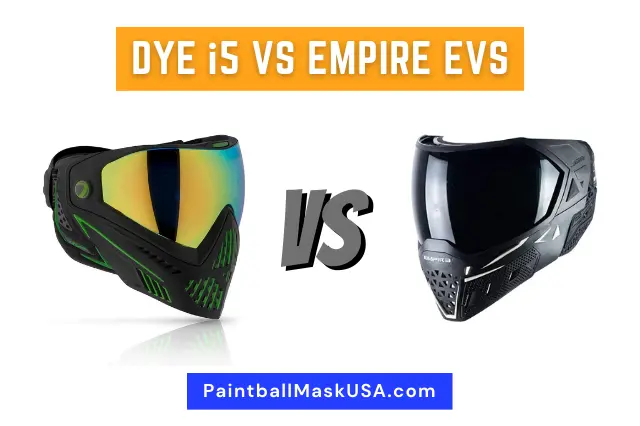 Design And Comfort
Dye i5 has Soft touch multi-layer foam and Empire EVS has Triple density face foam. It means both paintball masks are best for comfortable playing sessions. But the Dye i5 is more lightweight than the Empire EVS paintball mask. Further, Both have the same fitting size.
The Dye i5 has a compression-formed earpiece while Empire EVS has a thermo-formed ears design, and both provide smooth communication with teammates. But lastly, Dye i5 is the winner.
Visibility And Durability
The Dyetanium standard lenses of the Dye i5 provide a broad peripheral vision of 290 degrees. And Empire EVS offers a distortion-free, clear thermal lens with anti-scratch resistance. Both lenses have an anti-fog coating on them that are great for working.
But in durability, the Dye i5 is better because it is a lightweight and firm paintball mask that offers a 1-year warranty. In contrast, Empire Evs has only a 3-month usage warranty which is not enough for professional players. In sum, the Dye i5 is the best choice for beginners and professionals because the Dye i5 is a more reliable, lightweight, and long-lasting paintball mask.
Dye i5 Vs Push Unite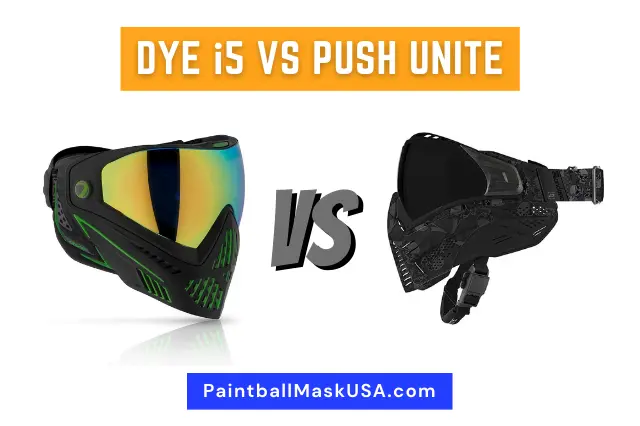 Design And Comfort
According to my suggestion, if you compare Dye i5 with Push Unite, the Push Unite paintball mask is good. The breathability of Dye i5 is somewhere lower than the Push unit paintball mask. Although, No doubt that the Dye i5 has excellent design and protection, many players like me want smooth ventilation that does not irritate while playing paintball games. So, from this perspective, I prefer Push Unite because it also has good protection, comfort, and a good pattern of ventilation holes for breathing.
Visibility And Durability
For durability, both paintball masks have a high-quality protective frame that protects the head and face from injuries efficiently. In Dye i5, all features are the same as other popular paintball masks have in them. Such as an anti-fog thermal lens, pushable straps, and contour design are acceptable for a smooth playing session.
But, in some features like the quad layer of anti-fog coating, strategic venting holes, magnetic chin strap, and nose bridge adjustment, Push Unite is the winner from Dye i5.
Dye i5 Vs Bunkerkings CMD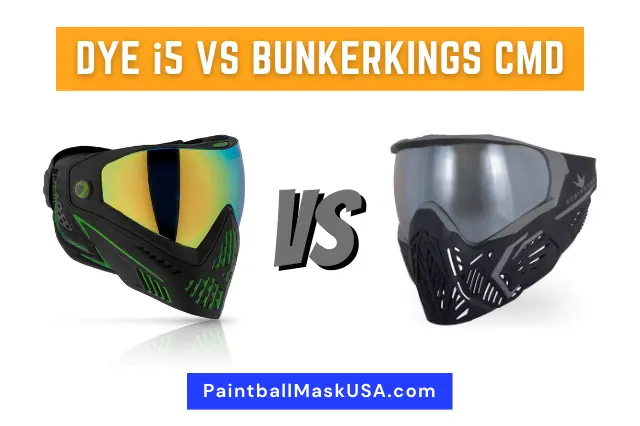 Design And Comfort
Both Dye i5 and Bunkerkings paintball masks are the same in fitting and size and have one year warranty. Also, they both are popular paintball masks among paintball players because of their designs, features, protection, and quality.
Moreover, the Dye i5 has a GSR Gear Lock system that gives a smooth and firm grip on the head and chin and does not allow the paintball mask to move during paintball games. Further, Dye i5 has soft touch multi-layer foam, while Bunkerkings has microfiber layer foam. In weight, Dye i5 is a little lighter than Bunkerkings, but both are lightweight.
Visibility And Durability
The visibility of the Bunkerkings Paintball mask is excellent as it uses glare reduce vio thermal lens that provides a clear and peripheral view to the user. Our professional players love to use Bunkerkings paintball masks, especially in foggy seasons because their glare reduces thermal quality.
No doubt, Dye i5 also offers great vision with its anti-scratch and anti-fog lens that protect eyes from UV rays and give a clear view in the dark with thermal coating on the lens. Lastly, I want to say Dye i5 and Bunkerkings are compatible in every aspect, and players can choose one of these paintball masks by their own choice.
Conclusion
Dye i5 vs Dye i4, Virtue Vio, Empire Evs, Push Unite, and Bunkerkings CMD is just a short brief to explain how these paintball masks differ from each other as well as they all are famous and excellent paintball masks of different brands. And according to my suggestion, Dye i5, Push Unite, and Bunkerkings are champs in every aspect including feature weight, price, design, and protection.
I hope you like this helpful article as I explained everything in simple words. In case, you have anything to ask, just comment in the below section. Also, share this article to show support for us. Don't forget we are always here to help you in your paintball journey.
Stay Blessed!